I have recently re-established services on etsy.com! I offer divination, occult and metaphysical services to all (aged 18 years and up, please). I am so excited to be able to share my gifts with the world!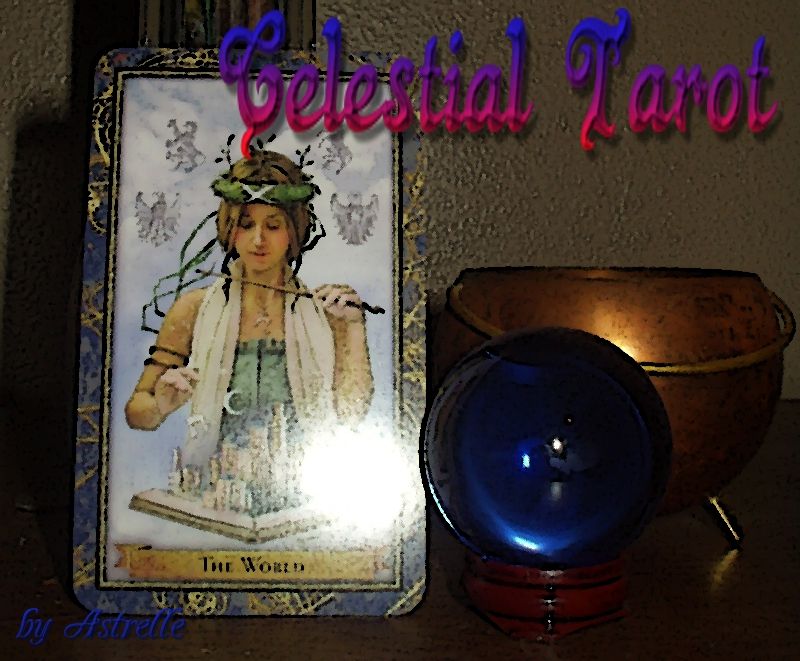 VISIT my SHOP at:
http://www.etsy.com/shop/CelestialTarot



I am Astrelle; an experienced intuitive tarot reader, diviner, and astrologer with an impressive rating of accuracy. I have been reading the cards for over 10 years. My purpose in life is to help others discover their true selves, and to pass on the messages I receive from the cosmos.

My talent is as a naturally gifted medium; I have had the ability to read auras since childhood. I posses a strong form of Empathy; I am also Clairvoyant in the form of of claircognizance, which makes my card readings particularly detailed and accurate.
I am the Founder & High Priestess of the "Sisters of the Celestial", and have taught many pupils to read the cards and uncover the secrets of the celestial divine.


A simple tarot reading can be the key to unlocking the mysteries of the mind, and answering questions that seem otherwise elusive. Ask my mystic cards about love, life, money, career, friendships, pregnancy, dreams, past lives, family, your children's future and any other pressing matters or important decisions to be made.

Skeptics and believers alike have come to me for over ten years and have been experiencing amazing results time after time. Some have had their lives greatly impacted by the powerful positive vibrations of my cards. Today is the day the heavens have a message for you, all you have to do is... ask the question.

I specialize in relationship and child readings, pregnancy readings, Past life readings and seasonal tidings such as New Years, Autumn Harvest and Astrological readings.
I also design my own custom tarot spreads, which have continuously yielded astounding results. Each reading is tailored specifically to my client!


Here are just a few of the readings I offer: Expecting a baby, expectant mother and unborn child, When will I conceive? TTC readings, empress blessing, Money, Finance or Career tarot readings, Celtic cross readings, past life reading, monthly, yearly or daily readings, romance reading, future soul mate, ex-lover readings AND MORE!

It is my intent to spread light and love to all whom I cross paths with, May we each go in harmony and peace on our unique paths.


~*~ Thank you for your patronage; Have a blessed day! ~*~

-Lady Astrelle


---------------------TESTIMONIAL and FEEDBACK--------------------


FEEDBACK from CUSTOMERS
~*~ ~*~ ~*~


"At first, I was skeptical about psychic card readings. When I received my first card reading from Astrelle, I was amazed by the accuracy and wisdom of the cards. However, the skill of the reader carries just as much weight in importance. Astrelle is amazingly talented and intuitive, her years of experience make all the difference. If you're looking for a psychic card reader with astounding intuition, don't settle for less then this pro. --Rosaline Ashwood"

"Astrelle, Thanks so much, this is excellent! TAROT KNOWS! So many things so spot on ! [The cards] ...feel reallly accurate. Thanks again, I appreciate this reading so much, and I'll certainly recommend you to others. --CanaryMiner"

"What an amazingly awesome reading! Thank you so much! I really like your reading style! --Alicia"



ACTUAL GENDER READINGS from Feb-July 2009
(In-gender.com forums) -using Expectant mother spread-
~*~ ~*~ ~*~


SL (June.2009): 23 weeks pregnancy reading - Predicted: Girl
Gender: Girl

Kaylee Amanda (July.2009): 19 weeks pregnancy reading - Predicted: Girl
Gender: Girl

-Predicted an additional future pregnancy with indications pointedly male. She delivered a baby boy in 2011 :)

ChelseaRae (UK) (Mar.2009): 20+ weeks pregnancy reading - Predicted: Boy
Gender: Boy
-U/s unable to detect baby's gender throughout her pregnancy. My cards, on the other hand; were spot on.

Teresa (April.2009): 18 weeks pregnancy reading - Predicted: Boy
Gender: Boy
-Reading performed for grandmother-to-be for her expectant daughter

Holly (Feb.2009): 12 weeks pregnancy reading - Predicted: Girl
Gender: Girl

MonkeyBug (Feb.2009): Empress' Blessing/TTC reading - Predicted: Within 3 months
Actual: pregnancy test (+)
April 2009 (10 weeks later)
-Predicted girl, unknown outcome

LMM (Mar.2009): 12 weeks pregnancy reading - Predicted: Girl
Gender: Girl
-Due date Oct. 3 '09
predicted baby born "last days of Sept."
Adalyn born 9/30/09 :)

BG (Feb.2009): 13/14 weeks pregnancy reading - Predicted: Girl
Gender: Girl
-Updated with u/s in April tech thought boy. Found out at 33 weeks cards were correct instead-- Girl.

Jess (Feb.2009): 23 weeks pregnancy reading - Predicted: Girl
Gender: Girl
-U/S came up unknown at 23 weeks cards predicted a "Daddy's girl" :)